5 Days a Stranger
5 Days a Stranger
is a adventure game released in 2003 designed and developed by Ben 'Yahtzee' Croshaw. 5 Days a Stranger can be described as a free, optional donation game and can be played on the following operating systems:
Windows
. 5 Days a Stranger is part of the
Chzo Mythos
series.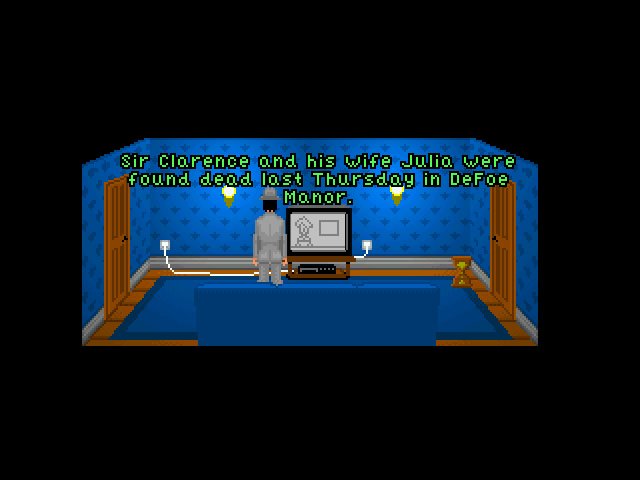 "5DAS is a medium-length free adventure game with a horror theme, made, as all my adventures are, with the miraculous AGS Engine." -
Ben 'Yahtzee' Croshaw
Review by Game Hippo:
"Trilby is a tall, elegant, English gentleman thief. Thanks to an informer, he is heading to the now deserted DeFoe manor, whose owner and wife tragically died recently, hoping for a good booty. But, once he entered the big house, he can't exit; doors and windows leading outside the huge estate can't be opened anymore. Moreover, there's other people inside, trapped like him. And things get even worse when someone dies... So, we have a classic haunted house theme, but the entire game is so well developed over it, that you'll quickly forget this detail. The plot, articulated through the five days of the title, develops greatly, and a lot of reading is involved in getting to know more of the mansion and its former occupants. The atmosphere is one of the game's strong points. Gore is very scarce, there are more fear and terror than visual horror. What I liked the most, are the cutscenes involving situations where you can't tell where reality ends and nightmare starts, or vice versa. In those cases, I was genuinely SCARED. Later in the game, you could be afraid of going on, in fear of witnessing some more bad events. Really a great work on this side. The game is not exactly long, also due to the limited amount of rooms - but, after all, you are confined inside a mansion, so a big variety of locations wasn't to be expected from the start. Some puzzles could prove to be challenging, you may feel clueless about what to do next until you gather the necessary information; remember, often reading is the key. Don't forget to save sometimes: in the second half of the game, there are a couple of situations were you could get killed."
Details
5 Days a Stranger screenshots
Comments
#1 - 25.08.2016 10:42 Triloby

Trilby is one of the best point&click adventures characters of all time. And I mean... almost better than Guybrush... Yes, I'm serious.

#2 - 29.12.2017 07:52 Talk talk

I remember playing this or one of the other games by yahtzee a long time ago: 2 thumbs up!