Progress Quest
Progress Quest
is a RPG game released in 2002 designed and developed by Eric Fredricksen. Progress Quest can be described as a full free version game and can be played on the following operating systems:
Windows
,
Linux
,
Mac OSX
,
browser
.
Free Games Utopia is made possible by displaying online advertisements to visitors.
Please consider supporting us by disabling your ad blocker.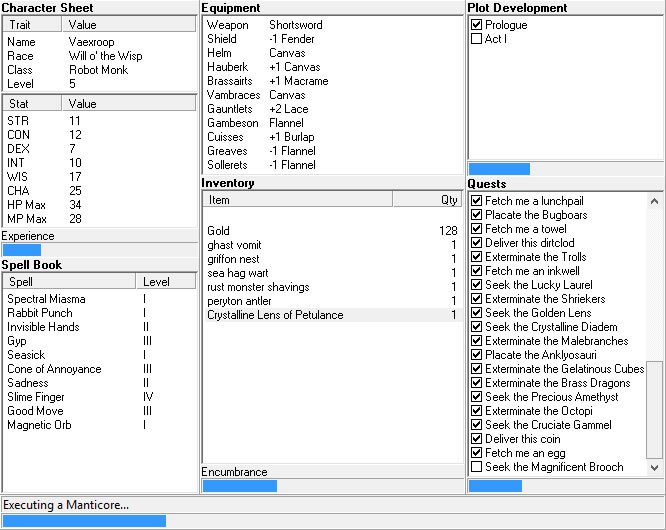 "Progress Quest is an antic and fantastical computer role-playing game, well worth the time you'll spend playing it. And it won't cost you a farthing!" -
Eric Fredricksen
Review by Game Hippo:
"Progress Quest was designed to be an RPG that would make progress with or without the player. All of the so-called boring parts were eliminated. Fighting is automatic, selling to shops is automatic, quests are automatic, and everything else is automatic too. The primary difference between Progress Quest and StatBuilder is that Progress Quest doesn't make you push buttons and actually keeps track of stats, equipment, and money realisticly. Despite the lack of interaction, Progress Quest does have an online version (lacks player interaction but allows for high scores) and the ability to save the game. Merely leave Progress Quest on network play overnight (or longer) and you may be able to obtain a high score."
Progress Quest key features:
hundreds of hours of idle fun
go questing with humor
there's actually no other game like it
you can play Progress Quest while you're taking a shower
Download Progress Quest for free
Progress Quest Details
Progress Quest Links
Progress Quest official site