King's Quest II: Romancing the stones
King's Quest II: Romancing the stones
is a adventure game released in 2002 designed and developed by AGD Interactive. King's Quest II: Romancing the stones can be described as a full free version game and can be played on the following operating systems:
Windows
,
Mac OSX
. King's Quest II: Romancing the stones is a
remake
of an old video game. King's Quest II: Romancing the stones is part of the
King's Quest
series.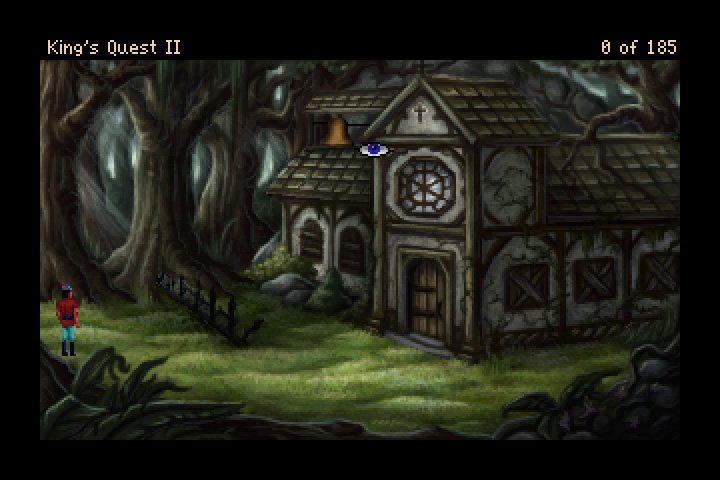 "The King's Quest II: Romancing the Stones remake follows in the tradition of AGDI's King's Quest I: Quest for the Crown remake, containing updated graphics and the familiar Sierra Point-and-Click interface system. But this time there is also an added storyline, deeper plot, fleshed-out characters, clever puzzles, enhanced artwork, music, atmosphere, depth, culture, and more - basically, the whole nine yards!" -
AGD Interactive
Review by Game Hippo:
"In King's Quest II you once again assume the role of King Graham of Daventry, this time on a "quest" to rescue his would-be bride from the clutches of an unknown force. Graham soon finds himself in the middle of a fiendish plot that will have the player absolutely immersed from the introduction all the way to the closing credits. AGD Interactive, the games creators, went to great lenghts to create an awesome experience by adding nearly an extra 50% to the games original storyline and it shows and shines.
But everyone who plays adventure games knows that a great story is not enough unless the game has great puzzles as well. Rarely will you come across a puzzle that you cannot solve if you give yourself a little time, and in the later portions of the game some of the puzzles are truly brilliant. Just remember to save often in different save files.
The graphics in King's Quest are beautifully atmospheric. You get a great sense of the mood in every single scene from them and some of the locations are simply awe-inspiring. The locations themselves make you want to progress further so that you can see where your quest will take you next.
Bottom Line: King's Quest 2 is a gem of an adventure game. If you loved the mid 90's style of point-and-click adventures then I cannot reccomend this game enough. It is an instant classic in my mind."
Download King's Quest II: Romancing the stones for free
King's Quest II: Romancing the stones video
King's Quest II: Romancing the stones Details
title:
King's Quest II: Romancing the stones
King's Quest II: Romancing the stones Links
King's Quest II: Romancing the stones official site