Beneath a Steel Sky
Beneath a Steel Sky
is a adventure game released in 1994 designed and developed by Revolution Software. Beneath a Steel Sky can be described as a liberated game and can be played on the following operating systems:
DOS
,
Amiga
,
Windows
,
UNIX
.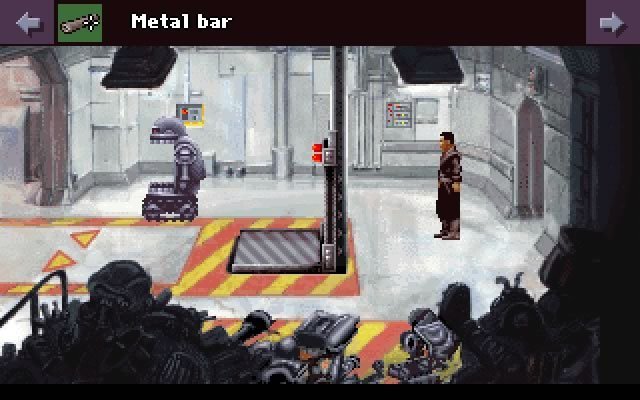 "When orphaned Robert Foster is hunted down, seized at gunpoint and flown a thousand miles to a city he's never seen, he can only ask himself: why me? Escaping from his abductors, fleeing into a dark metropolis, Foster vows to solve the mystery and avenge the murder of the only family he's ever known." -
Revolution Software
Review by Game Hippo:
"Beneath A Steel Sky is often dubbed as one of the finest point-and-click adventures ever made. The puzzles, or rather, the way the puzzles are presented, are certainly the game's strong point. All of the puzzles are intergrated so smoothly into the flow of the story, that it is sometimes hard to actually classify them as 'puzzles'; 'goals' would be more precise. Although BASS (Beneath a Steel Sky) is somewhat easier than most other point-and-clickers of it's era, it still has it's share of mind bending moments that will have some of us looking to Gamefaqs.com for solutions.
The story itself isn't really anything new, but it's a tried-and-true utopeian society yarn, with a couple of nice twists along the way.
The art in BASS was drawn by comic book dude Dave Gibbons, and this could be somewhat of a mixed blessing. The enviroments have a very 'realized' and full look, but from a technical standpoint, they are somewhat their point and click contemporaries (KQ6).
Beneath a Steel Sky is a good adventure game. Point-and-click fans would do well to check it out, especially now that it's FREE."
Download Beneath a Steel Sky for free
Beneath a Steel Sky Details
title:
Beneath a Steel Sky