OpenTTD
OpenTTD
is a simulation game released in 2014 designed and developed by OpenTTD Team. OpenTTD can be described as a open source game and can be played on the following operating systems:
Windows
,
Linux
,
Mac OSX
,
Free BSD
,
Solaris
. OpenTTD is also a multiplayer game.OpenTTD is a
remake
of an old video game.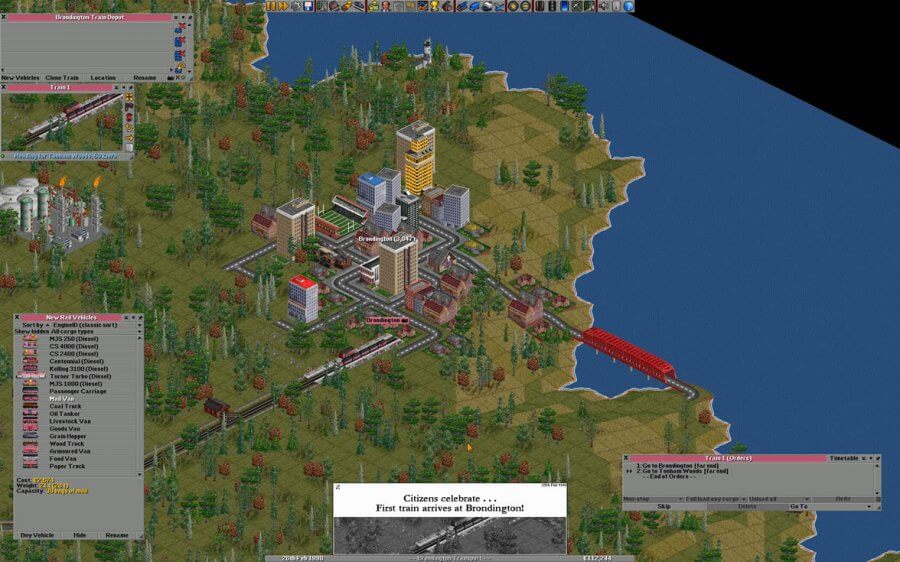 "OpenTTD is an open source simulation game based upon the popular Microprose game "Transport Tycoon Deluxe", written by Chris Sawyer. It attempts to mimic the original game as closely as possible while extending it with new features." -
OpenTTD Team
What Free Games Utopia thinks:
"OpenTTD does a good job in re-creating the gameplay and atmosphere of the original Transport Tycoon. The main issue I have with OpenTTD is the fact that the interface didn't age well and sometimes can be frustrating to manage all those windows and pixel hunting tiny icons. All in all, it's a very good game, maintained by a fantastic and dedicated community that every simulation fan (expecially by Transport Tycoon fans) should try."
OpenTTD key features:
a modern remake of the old Transport Tycoon classic
single and multiplayer modes
lots of mods available: new graphics, AI scripts, trains, and more
Download OpenTTD for free
Original game info
OpenTTD is a remake of an older game. Here's some details about the original game:
Title
:
Transport Tycoon
First released in
: 1994
Developer
: Chris Sawyer Productions
Publisher
: MicroProse
Designer
: Chris Sawyer
Originally developed for
: MS-DOS
Later ported to
: Mac, PlayStation, Sega Saturn, Android, iOS
OpenTTD video
OpenTTD Details
version:
in developement, playable
OpenTTD Links
OpenTTD official site
Reddit channel
Wiki page