Noctis
Noctis is a simulation game released in 2001 designed and developed by Alessandro Ghignola. Noctis can be described as a full free version game and can be played on the following operating systems: DOSWindows.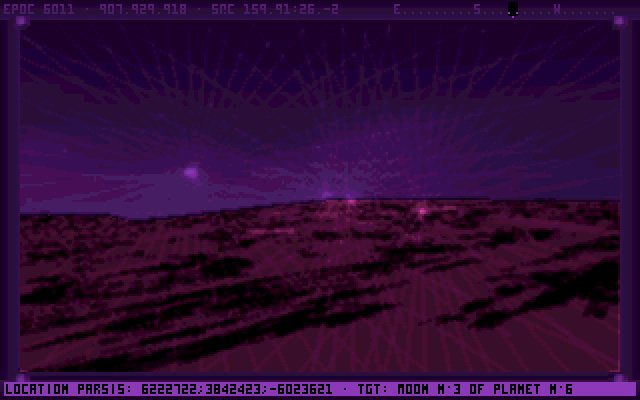 "Noctis: the latin word for "night", and the title of this simulator. Night, after all, is just the word we use to describe the absence of light while the Earth is turned away from the sun, and in space, there is no light but the distant pinpricks of ancient stars. Space is a lonely place, but it harbours some truly spectacular secrets; eerily glowing pulsars, enormous red giants, glittering, beautiful nebulae, and deadly, all-consuming singularities to name but a few. For most people, the thought of going into space and exploring such sights is an impossible dream. But no longer; Noctis allows you to do just that. In technical terms, it is a fully 3D galaxy, which allows you to explore thousands of stars, their planets and moons. From the moment you first play Noctis, you'll be hooked." -
Alessandro Ghignola
Review by Game Hippo:
"The first time I ran Noctis, the sheer size startled me. You will never run out of places to go. In Noctis, you play a member of a cat-like race called Felisians. You basically fly around in your box shaped ship (called a stardrifter), exploring anything you want. In Noctis there are no boundries, and no limits besides your imagination. Noctis is simply huge. There are about 70 billion stars, and you can go to every single one of them. Each one of the stars can have up to 30 planets, and each planet can have moons. When visting a planet or a moon, you also have the option of landing on it. This is done by literally selecting a pixel on the planet's texture. What's great about Noctis is the labeling system. You can name every planet and star you find in Noctis. After naming, you can also write comments about anything you want, like interesting sites, the planets history, and so on. Then, to make it offical, you can send in your player file to the author and he will make your named solar system an offical part of the Noctis galaxy. It can actually be fun going to someone else's planets, and reading what they said about them. In conclusion, in you want a truely non-linear game, where exploration is the only reward, this is a game for you. If you want a game with set goals, look elsewhere."
Noctis key features:
explore a huge procedurally generated universe in your spacecraft
share your discoveries in the shared GUIDE database
discover new planets with different atmosphes, weather, flora and fauna
Details
Comments
Leave a comment. Comments are moderated: be nice and be patient.