Caves of Qud (free version)
Caves of Qud
is a RPG game released in 2017 designed and developed by Freehold Games. Caves of Qud can be described as a free, commercial version available game and can be played on the following operating systems:
Windows
,
Mac OSX
,
Linux
.
Free Games Utopia is made possible by displaying online advertisements to visitors.
Please consider supporting us by disabling your ad blocker.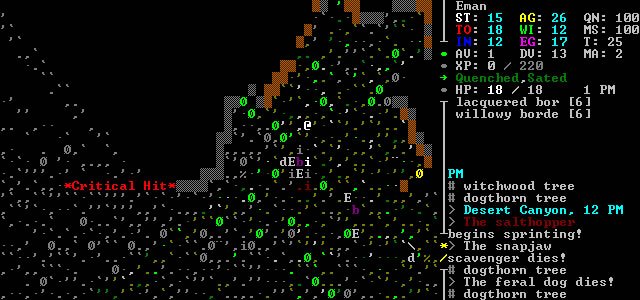 "Caves of Qud is a science fantasy roguelike epic steeped in retrofuturism, deep simulation, and swathes of sentient plants. Come inhabit an exotic world and chisel through a layer cake of thousand-year-old civilizations. Decide: is it a dying earth, or is it on the verge of rebirth?" -
Freehold Games
Download Caves of Qud (free version) for free
Caves of Qud (free version) Details
title:
Caves of Qud (free version)
version:
in developement, playable
Caves of Qud (free version) Links
Caves of Qud (free version) official site