Eternal Daughter
Eternal Daughter is a platform game released in 2002 designed and developed by Derek Yu. Eternal Daughter can be described as a full free version game and can be played on the following operating systems: Windows.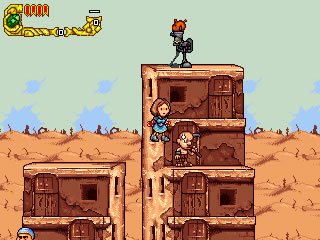 "Eternal Daughter is an epic platform game that took myself and my friend Jon two years to make and nearly destroyed our immortal souls. It's an homage to some of our favorite games from our preteen years, like Super Metroid and Castlevania: SOTN." -
Derek Yu
Review by Game Hippo:
"Eternal Daughter is a platform adventure which borrows a few ideas from Metroid and Castlevania. Your goal is to stop the Dungaga from enslaving your people. Eternal Daughter features several large bosses, weapons, and powerups. Eternal Daughter is more challenging than many similar freeware games, but the enemies are predictable enough to make this game beatable for those with patience. The graphics in Eternal Daughter are great and vary throughout the game."
Details
Eternal Daughter screenshots
Comments
Leave a comment. Comments are moderated: be nice and be patient.