Continuum
Continuum
is a shooter game released in 2001 designed and developed by Virgin Interactive. Continuum can be described as a full free version game and can be played on the following operating systems:
Windows
. Continuum is also a multiplayer game.
Free Games Utopia is made possible by displaying online advertisements to visitors.
Please consider supporting us by disabling your ad blocker.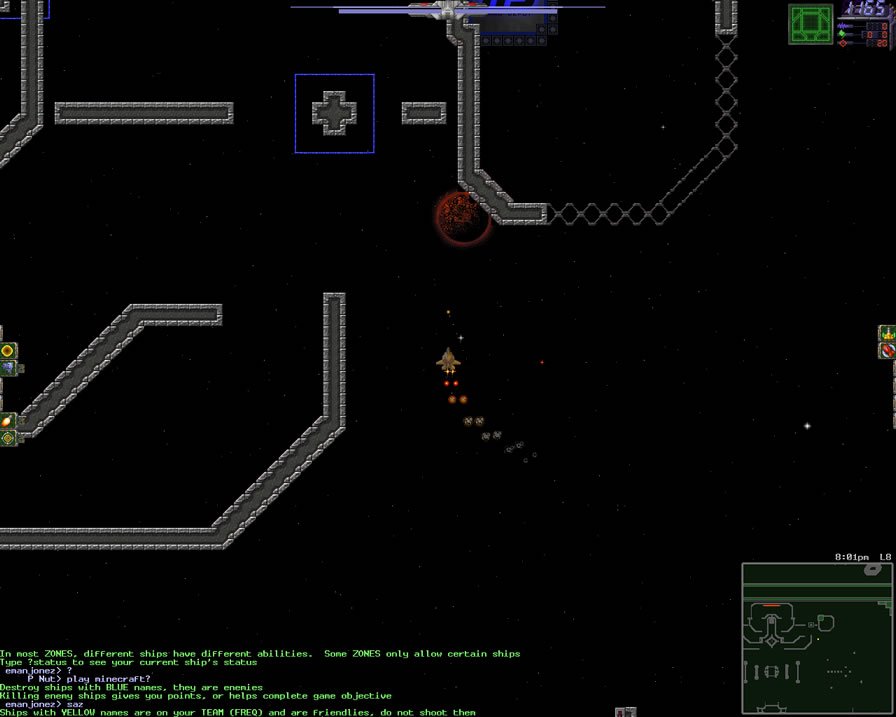 "Ever imagine what it'd be like to play Asteroidsagainst your friends? Want to savor the satisfaction of blasting people out of space in some addictive side-scrolling 2D spaceship shooter action? Slap on some snazzy graphics, guns, bombs & big explosions and the beautiful revelry of flying past your enemy's debris as they cuss at you, and you have Continuum, the longest running massively multiplayer spaceship shooter game running today." -
Virgin Interactive
Review by Game Hippo:
"Anyone ever played SubSpace? Continuum is the continuation of this freeware game. Continuum is a multiplayer top-view space game. It features 8 different ships - each with their own unique abilities. The graphics and sound effects of the game are fantastic, and game play manages to keep up with it. Keyboard shortcuts allow for easy access to all the upgrades you have, and you never have to leave the action. Another great feature is 'turreting' allowing a second player to join up with another player in one ship, but with two guns. The game also has a central lobby server that you can connect to - making it easy to find multiplayer games. Continuum has a single player training mode, but there are no bots to play with. Continuum has different styles of play, and it depends on the server. Some servers have free-for-all death matches, others have team matches, and some have 'capture the flag' games. There is a special Continuum sport, 'Soccer'. In Soccer, you pick up the ball, and try to shoot it at the enemy's goal. Continuum allows you to customize your skins. You can download several skins and the skin editor at the website's download page also."
Download Continuum for free
Continuum Details
Continuum Links
Continuum official site